Adventures with E-Cross Buggies, 4*4 Buggies, Quad, Segways and Snowmobiles

Buggypark Pontresina / St. Moritz: Adventures on snow and ice
One hour exclusive park rental from CHF 650.00 only! Book the park for you and your group, you can use it exclusively, 4 Buggies are price included. One hour is perfect for groups up to 20 persons. Larger groups might book the park for even up to 4 hours. This is the new highlight in the Engadine Valley.
From CHF 650
Enjoy a guided tour from Pontresina up to Berninapass After welcome a drivers briefing and safety instructions meeting will take place. Guests will receive information about how to drive the vehicles off- and onroad. Also technique how to drive on sonw will explained. Practical training to follow. When everybody is ready we start to the exciting tour up to the Bernina Pass (el. 2,328 m or 7,638 ft.) (Italian: Passo del Bernina) which is a high mountain pass in the Bernina Range of the Alps, in the canton of Graubünden (Grisons) in eastern Switzerland. It connects the famous resort town of St. Moritz in the Engadin valley with the Italian-speaking Val Poschiavo, which ends in the Italian town of Tirano in Valtellina. The pass lies a few kilometres east of Piz Bernina. The Bernina Pass is crossed by road and rail, with a popular tourist train, the Bernina Express operating year-round between Chur and Tirano. The train crosses the pass west of the road at a slightly lower 2,253 metres (7,392 ft) (at Ospizio Bernina) - it is the highest adhesion railway route in Europe. Up on the pass we will have a break in an alpine hut. In price included: - 4*4 Buggy or Quad (for one or two persons per vehicle) - Helmet - Theoretical and practical driving training off- and onroad - Guided tour up to Berninapass (7600 ft) - Coffee break at Bernina Pass - Damage insurance (self coverage CHF 2,000.00 (Optional upon request: Reduction Selvf coverage to CHF 500.00) Event duration: about 2 to 2 1/2 hours Requirements: - Valid drivers license (Motorbike and/or Car), license must be valid to drive in Switzerland - Minimum age for drivers: 25 years
From CHF 290
Rent a CrossBuggy (Two-Seater) 25 Minutes Rental time (Time for instruction and Battery change included). Reservation is mandatory. The Buggies are two seaters, all prices per vehicle (not per person)
Guided snowmobile Tours Madesimo/Splügenpass
Spend an exciting journey (Day trip to Itay for Snowmobiling) This excursion is the highlight of any St. Moritz / Engadin Valley vacation. Enjoy the Snowmobiling combo Tour No 6 to Spluegenpass and Lago Nero. Description: Scenic route from St. Moritz to Maloja, Chiavenna and Madesimo where our Snowmobile-Camp is located. Transfer time: 90 Minutes. After safety instructions you will embark on a ride up to the Spluegenpass. We will have a break before continuing the tour to Lago Nero. After the tour you will enjoy a traditional italian lunch in an alpine rifugio (4 course menu, all included) Departures daily from Tuesday to Friday (09:00) from St. Moritz (other locations on request). Return at around 4 pm (16:00) The tour price includes: - all Transfers, Tour guide - Snowmobile Excursion No 6 (1 Snowmobile for 2 people) - Lunch (4 course lunch, all drinks included) Important: - all prices are based per person! - Tour can be booked for 2, 4, 6 or more people (2 people sharing one Snowmobile) - A snomwobile for single use is available against upgrade fee (CHF 190.00 upgrade price) - In case of a booking for 2 persons has been made and more persons will join the tour a refund is offered.
From CHF 389
Our luxury-tour includes all available Snowmobile trails (a total of about 60-70 kilometers incl. sites such as Lago Nero, Splügen Pass and the "Large lake"). You will also see additional nature trails, ghost villages and much more (depending on the weather and snow situation). Berfore driving back to basecamp get a rest at a Rifugio (mountain refuge). Food and drinks are included in the price (4 course menu with antipasti, pasta, meat and dessert. Wine, coffee, grappa). Tour takes about overall 4 hours Tourprice is for one person/snowmobile. Passengers can be booked using the addon feature.
From CHF 459
This is the real challenge. After briefing at base camp everyone gets his personal snowmobile for the day. At morning we enjoy same routes as within tour 6L. After lunch (included in the price) we start for a second tour now also exploring unprepared trails, enjoying some offpiste driving. This tour is requiring good physical fitness, and is best suited for experienced riders. The tour is guided in english, available from 4 to 12 persons and takes place daily except Sat/Sun. The price per person is including: - One Snowmobile per Person - 4 Course lunch, all drinks included - Luxury tour in morning - Challenging afternoon tour exploring offpiste experience - Post Tour cocktails
From CHF 789
Coming soon:
Guided tours with 4*4 Buggies on tracks

Exciting panoramic Tours with 4*4 Buggies on tracks.
Available from December 2018 out of Madesimo
---
Winter Season at Buggypark Pontresina
End of Season Winter 2018, remaining opening days Sat/Sun March 17/18 and Sat/Sun March 24/25.
Still available until mid of April: Guided Quad/Buggy Tours.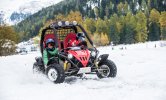 A Breathtaking Adventure! Snow and Ice Drifting in Pontresina
Drive the the worldwide exclusive two-seater E-Buggies on a challenging racing track. Thanks to the powerful e-engines you will have lots of fun drifting and sliding around.

Minimum driver age is 16 (adult person as passenger is required), minimum passengers age is 10 years (minimum 120 cm tall).
Rent a E-CrossBuggy, get your safety equipment and let's go!

Buggy Park is available for groups and for individual persons as well.
---